THESMANEWS
Present Issue
Past Issues

Journals
Present Issue
Past Issues

Letters to the Editor

This site is supported by Health ONE


MY PASSION FOR MUSIC
I was rejected many times and much disheartened, but, it never occurred to me to give up.
I believe it was the strength of my unexplainable passion that pulled me through the many obstacles.
---
"Oh Carol, I am but a fool, ..." was one of my favourite songs. I remember singing it most when I was in Primary 4. I loved singing since young. It was only until my secondary school days that my natural sense of music began to surface. I started venturing into music on my own, learning music theories through self-study books and even composed songs for fun. I explored different types of music, from classical to contemporary and gospel, as I am a Christian. I also started to sing on stage. I loved to perform, seeking every opportunity to sing.
Of course, my craze for music rather upset my parents. They were worried that it would affect my studies. Despite their disapproval, I continued my music venture and even participated in the then biggest Amateur Singing Contest, in Hong Kong. I won the 2nd prize. At the same time, I was able to prove to my parents that my passion for music did not affect my studies. I was accepted by the Medical Faculty of the University of Hong Kong. If given a choice, I would have gone abroad to pursue music. It would have been a disaster had I even mentioned this to my parents. So I ended up studying medicine.
During my University days, I hardly had time for anything else but my studies. Surprisingly, my passion for music grew stronger each day. After graduation, I started to explore more seriously into different aspects of music such as composing, music arrangement and lyric-writing. Although singing was still my favourite, I was constraint by my profession due to irregular working hours and, I must admit, the image factor. On the other hand, without proper musical training, there was no way I could progress in composing or music arrangement. To compromise those situations, I decided to try lyric-writing, which I have never thought of previously. I could write whenever I have the time and I need not perform in public.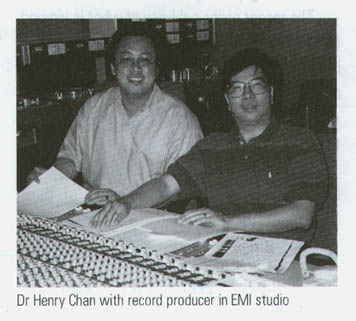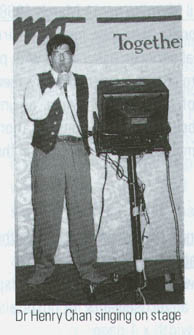 To describe it mildly, it was hard work from the very start. Lyric-writing requires creativity, music knowledge and a good language background. Being a medical person, I was handicapped by all these factors. At that time, Cantonese songs were most popular in Hong Kong and that prompted me to write Cantonese songs. It was a new challenge for me. I poured over music books that I could lay my hands on, listened to music, studied Chinese poems and even forced myself to read novels, which I did not usually do. I became more observant to details that we tend to take for granted in our daily life. All these gave me unlimited knowledge, ideas and inspiration. Sometimes, an idea or a phrase just popped up even in my dreams. After several incidents where I could not recall the inspirations that I experienced the night before, I resorted to getting up in the middle of my sleep and scribbling down whatever that came to my mind.
After a year or so of self-practice, I put my learning to test. I participated in an Amateur Lyrics Writing Competition sponsored by Radio Hong Kong. The prize attached was that Alan Tam, the most popular artist in Hong Kong at that time, will sing the winning songs. I was 2nd again.
Winning the prize was not enough for me. In fact, this was just the beginning of another part of my life. It was not so smooth sailing though. Much as I wanted to pursue the subject in depth, I could not find a proper training course that I could enrol myself in. Competition was great and without good connections with music producers and record companies, you cannot get anywhere. With sheer determination, I struggled my way through. I was rejected many times and much disheartened but it never occurred to me to give up. I believe it was the strength of my unexplainable passion that pulled me through the many obstacles.
Finally, my opportunity came. It was the ABU World Song Festival in which the 1st Prize Winner would represent Hong Kong to compete with other Asean countries. I came in 1st and represented Hong Kong. After that, I became a member of The Composer and Author Society of Hong Kong (CASH). This was the start of my second career as a professional lyrics writer. I became an in-house lyrics writer for EMI and Capital Artist. I wrote songs for famous artists such as Lisa Wang, Andy Lau, Francis Yip, Roman Tam, the late Danny Chan, etc. I took on two professions at the same time, not for the monetary gain but for self satisfaction. To be honest, the pay as a lyrics writer was meagre. Life was not at all easy, especially when I started on my own clinic. Sometimes, I had to complete two songs within a day. There was no way but to sacrifice my sleep and family life. Luckily, I have a very understanding and supportive wife.
In 1989, my wife and I immigrated to Singapore and that ended my career as a lyrics writer in Hong Kong.
In Singapore, probably because I needed time to adapt myself to the environment and blend in with my new citizens, I was not so actively involved in music. I only wrote a few mandarin songs for the Singapore Broadcasting Corporation (SBC) for their drama series through a friend of mine who was working in SBC. I remember, one of the songs, sung by Andy Lau, was broadcast in a drama series entitled

in 1992.
Until today, music is still very much a part of me. In fact, I am exploring the possibilities of music and sound to complement the conventional medical therapy. The western countries are already looking into this area. I hope that one day, I can realise my vision of combining my two favourite subjects into one - the "Music and Sound" therapy for my medical practice.
DR HENRY CHAN KAH KWOK