This site is supported by Health ONE

GUNUNG TAHAN AND A HEALTHY LIFE-STYLE
"Endless, the distant hills
Blue upon blue, peak upon peak."
---
Gunung Tahan, 2187 M, is the highest peak in Peninsular Malaysia. Situated on the main range in Taman Negara (Malaysia's national park), its challenge "lies not so much in its height nor the steepness of its sides, but rather in its remoteness and inaccessibility." The round trip from the park HQ to the summit and back, a distance of about 110 Km, can be accomplished by the fastest trekkers in 5 days.
Someone once said that adventure is hardship recalled in the comforts of your sitting room. Thus, I tell my story.
Two months of "training" carrying 25 K packs up and down an HDB highrise block with week-end climbs on Bukit Timah hill and, mentally, we were ready.
A chartered minivan from Johor Bahru took us on an overnight ride to Jerantut, the town nearest to the ferry point for the national park, but the 3 hour ferry ride in a 12 seater narrow motor-boat up the picturesque Sungei Tembeling found us catching up with lost sleep.
Day 1 : 2.5.92
The Wildlife Department's office is situated in Kuala Tahan at the park HQ. After obtaining our permits and declaring all tinned cans taken along (the empty tins had to be brought back at the risk of a penalty), we met Mohammed bin Hj Ibrahim, the guide assigned to us, and discussed our itinerary. William, our leader, had made a "secret" climb without a guide 5 years previously, but a guide was now compulsory.
Starting off at 8.45 am with myself (the slowest and oldest) to set the pace, we trekked 4 hours across undulating lowland jungle with many small streams and leeches a-plenty to reach Kem Melantai, where we cooked lunch by the river and buried our food for the return journey. The jungle protected us from the fierce sun. From Melantai, it was uphill all the way. For me, it was not the ultimate summit, but every step along the way, each step complete in itself, and every each moment, that made the journey. And as I began to experience our every movement, I began to enjoy the climb.
Three-quarters way across the Malang Hills - a waterless ridge of 27 peaks between 300 - 500 M high - we arrived at Kem Tengah, 379 M, at 6pm and camped for the night. At a hidden spring, 5 minutes down a steep slope, we drew water, precious living water, to wash ourselves and to cook rice for dinner, then settling down to a "happy hour" of brandy and retiring at llpm.
Day 2 : 3.5.92
A sleepless night - I always have difficulty trying to sleep in strange places, even in a 5-star hotel - and it was dry and comfortable within our two large 6-man tents. All were aroused by a "morning call" at 6.30 am and after breakfast we broke camp at 8.30 am.
We continued up the Malang Hills, climbing continuously, and in an hour reached Gunung Rajah, 576 M, the last and highest peak on the ridge. "Rajah is nothing!" Psychologically, we had triumphed.
Downhill all the way, we reached Kem Puteh, where we rested and cooked lunch from 11.15 am to 1.30 pm and again hid our food for the return journey. The scenery changed now from jungle treks to river crossings, and we crossed the Sungei Tahan - a fast flowing, thigh-deep river - 8 times, with the assistance of a stout stick, in the strong current. The guide assisted me by holding my outstretched hand, to which Henry made a rude remark - something about "giving away the bride".
The sixth river crossing, on a tree trunk, was the easiest. Then, a difficult stretch along a high river embankment before arriving at Kem Teku, 168M, at 5.30pm. It has taken us 27 hills, one mountain, 8 river crossings and 2 days to arrive at the foothills of Gunung Tahan and still the mountain peak was out of sight.
Erected tents, cooked rice, bathed by the river, followed by "happy hour" and all our tiredness vanished.
Day 3 : 4.5.92
A late rising, and after a breakfast of porridge and tinned meats (energy needed for the climb) we broke camp and departed at 10 am. We also carried a cooked lunch of rice, sausage and dried prawns (our constant ration) because there was no water on the way.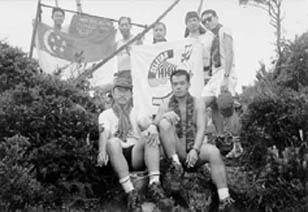 Uphill and uphill, "take 5", "take 10" at every half-hour, and we reached Pondok Dua ("Two Humps"), or Wray's Camp, 1100 M, by 3 pm, where we settled for the night. Water was available 10 minutes down a steep track, where we bathed and collected water in bottles tied around our necks, to cook rice and for the next day's journey.
We could have reached the next campsite further up, where there was prospect of a "beautiful sunrise", but there was no water up there.
Day 4 : 5.5.92
Each day the scenery changed, like someone changed the prop on stage. Departing Wray Kem at 9 am, we climbed an hour and reached Gunung Pankin, 1400 M, and after another 45 minutes, its upper reaches at 1463 M. We were now above the clouds and there were excellent views of the valleys below.
We continued our uphill climb and reached Gunung Tangga 15, 1539 M, at noon, where we stopped for a brief rest and resumed climbing. The terrain was steep and upwards almost all the way. The trail then ran along the top of a narrow ridge with breathtaking views (like from an aeroplane) on both sides.
We scaled up and down Gunung Reskit by ropes and paused for a dry lunch of biscuits in the rain. "Eat, for energy!", urged William, our leader, who was as shagged as anyone else. I laid on the ground. The whole world was my grave.
More vertical cliffs and rope-assisted climbs and, finally we made the shoulder of Gunung Gedong, which allowed a panoramic view of the Padang campsite below.
We pitched our tents on the grass at Padang and, because of strong winds, secured the fly-sheets firmly for our 2 nights stay. Our packs were hung on trees because rats were around the campsite at night. Bathed and collected water at the nearby stream whilst Bob cooked dinner in the rain, Bob always quietly cooking our meals.
The temperature was 16 degrees C in the evening, dropping to 12 degrees C at night. The Southern Cross showed the way whence we had come. The Plough pointed at Tahan, which was still out of sight, to the north. Then the mists came and blotted out the sky.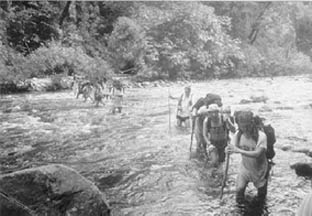 Day 5 : 6.5.92
It takes 3 hours from the Padang campsite to the top of Gunung Tahan. This was the day! We left at 10 am carrying only water, cooked lunch, medical kit (William's previous party was stung by hornets), the video and cameras.
The trail to the summit (minus the guide) was easy to follow. Over the Padang plateau, up along the dried-up river beds of quartz rocks, orchids, pitcher plants and stunted vegetation all around, higher and higher up the ridge and we were at the top!
On top of Gunung Tahan, 2187 M at 1.30pm (a party from Kuala Lumpur arrived there before us) - the spot marked by a metal pylon with name-plates left behind by previous climbers. We took photos, hoisted the Singapore flag and the Seletar Hash pennant enacted the climb on video, and the rains came.
"No great deal!" was the general sentiment, now that we had reached the top. But every mountain is its own, high or low, and to be reckoned with. I shall never complain about Bukit Timah hill again. To each his own mountain. There was nothing more to do now other than to return.
Day 6 : 7.5.92
Coming down is always easier and this was the fun part. One step retrieved meant one step nearer home, one less obstacle to go, and so we made it down-hill (equal to our 2 days uphill climb) to Kem Tuku in about 8 hours.
Day 7 : 8.5.92
The return stretch from Kem Tuku to Kem Melantai (recovering the river crossings, Gunung Rajah and the 27 hills) was our longest, departing at 9 am and not arriving until after dark, in the rain, with torches, at 7.50 pm. It was only on the return journey that we could appreciate how far we had come. Like a reverse play on the cine, it was only now that I dared to look beyond my footsteps to realise the long stretches we had covered.
Day 8 : 9.5.92
This last day was the easiest. Departing Kem Melantai at 9.45 am we made our way swiftly on flat terrain back to the park HQ by 1 pm, where chilled beers (prepared by our advanced party) and a shower at the HQ awaited us. Time to throw away the dirty T-shirt I had worn for those 8 days and to inspect my two big toes, minus the nails, and the blisters over the heels.
Our return to Singapore was uneventful. We were now ready for our "National Big Walk", scheduled for 24.5.92. Shall we try?
DR LIM KUANG HUI
OPHTHALMOLOGIST IN PRIVATE PRACTICE
Tel: 734 6666 Fax 734 6667