THESMANEWS
Present Issue
Past Issues

Journals
Present Issue
Past Issues

Letters to the Editor
This site is supported by Health ONE
Book Review
---
"A Guide To The Assessment of Traumatic Injuries and Occupational Disease For Workmen's Compensation"
Compiled by Dr Lee Hock Siang, A/Prof Shamal Das De, Dr Phoon Wai Hoong and Mrs Han-Koh Lai Eng




The fourth edition of the Workmen Compensation Guide has been published. The guide was first published in 1978. The present edition has been expanded to include the assessment of neurological disorders (eg. sensory loss of digits, peripheral nerve injuries, injuries to the plexus and spinal cord) and other injuries affecting the limbs and spine (eg. specific fractures and their complications, joint dislocations, ligament injuries, tenosynovitis and intervertebral disc injuries).

This guide has also been expanded to include the assessment of hearing, respiratory, renal and hepatic function. These may impaired in a worker suffering from an occupational disease.

The compilation of this guide has been largely based on the American Medical Association's guide and adapted to the local situation after consultation with our local specialists.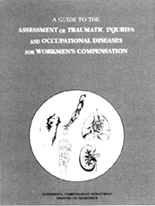 This guide should be within arm's reach of every practitioner. It can be purchased at $13.80 per copy from the Singapore National Printers (SNP) Corporation Ltd, 8 Shenton Way #11-03, Temasek Tower, Singapore 068811.


A/PROF GOH LEE GAN